Awright, guys, let's do this! I'm Meg, hailing from the blog named
bow ties are cool
(do I capitalize the title? not sure, it varies day to day), and I am going to post some pictures of my outfit here. Ride or die.
So Emily asked us guest bloggers to do an outfit posts inspired by music. She pretty much left it up to interpretation, so here I go with my interpretation.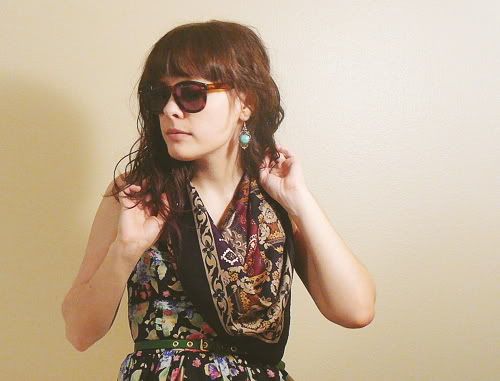 I'm wearing: H&M dress and belt, Target cardi, thrifted scarf, Ralph Lauren sunnies.
What I knew immediately upon learning that we were doing music-inspired posts was that I was going to take my inspiration from Patrick Wolf. There was nobody else on my roster, hands down, no contest. Patrick Wolf has been my absolute favorite singer/songwriter/musician since the summer of 2005, when I discovered
Wind in the Wires
via an online friend at the time. From the very second I heard Patrick's deep yet ethereal voice, I knew I'd found my soul in the form of music. I sound like a turd
but it's true
.
The thing about Patrick is that it's hard to really place his music in one genre. Harder than any other artist I know, in fact. At times he's rock, sometimes pop, sometimes dance or electronic or even classical/orchestral. At the heart of all of it, though, at least for me is this connection with what lies on the outside of what we can see, be it emotions or magic or times past. His music makes me feel like I'm stepping out of this world and into a new one, nearly like ours, but just strange enough to be right on the other side of the looking glass. Patrick Wolf is like... a vagabond fairy-boy with rainbow hair and bizarre clothes and an old soul. He makes me think of forests and dancing in neon and ukuleles and old things.
So this is what I wore. I think I'd wear this to a Patrick Wolf concert (and I am
going
to one this fall in London, which I will now brag about wherever and whenever I can), but it also makes me feel like a gypsy fairy in a dance club, which I feel rather fits Patrick's whole... thang. Though really, his music is what you take from it, which could be said about any musician at all!
I suggest you all go out and listen to some Patrick Wolf on youtube, particularly some of his older stuff like "The Libertine" and "The Stars," although anything is going to be good really (my favorite right now is "Thickets").
Well I suppose that's it from me, thank you all so much for allowing me to burst in and ramble about my boy Patrick! Have a lovely evening. ♥
P.S. I wore sunglasses in these photos because I have a stye in my right eyelid and it's all swollen. JUST SO YOU KNOW.