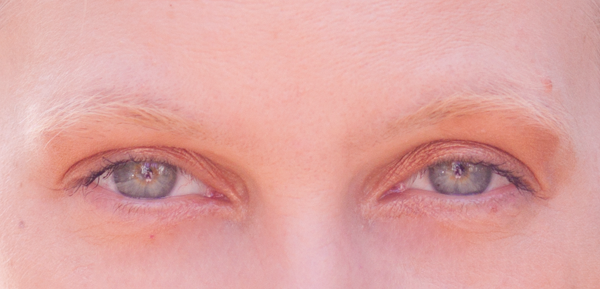 In New York (photo shoot for a Cosmetics label) the Make-Up stylist bleached my brows to open up and create more space in my face. I think it has been the best thing beauty wise in ages!!!
At first I was afraid the bleached brows would look awkward when not wearing any make-up but they look totally natural, kind of a Swedish look, note that I do have a very pale skin and highlighted blond hair...
As for applying Make-Up they are perfect as well, giving me more space to play with eye shadows and just a tiny dip of mascara gives already just a notch of a freshly made-up face. The light bleached brows are very easy to color with brow powders and pencils as well.
The brows were bleached on the spot with regular bleach/dye (same as being used for hair) only the Make-Up stylist used a percentage of only 6%!! The developing time was aprox between 5 and 10 minutes. It's easy to do yourself although I might go for the 1st touch up to my hairstylist just to make sure I will use the right bleach.
make up; Cargo st. Tropez (rose pink) and Cargo Mojave (copper) eye shadows, I used the st. Tropez as base and dabbed (with my finger) the Mojave roughly at the outer edges and under the brow.
xoxo
FOLLOW ME ON BLOGLOVIN' FACEBOOK AND TWITTER