WOW. I miss my blog =_= i feel like such a bad person. I constantly abandon my blog:(
School life has taken over so yeaaaaah.. I will be having my finals the week after next. I am stressed up like mad. I don't know if i can make it. The irony is, the closer finals are, the more i am slacking off GAAAH. I must study =_= MUUUUSSSTT xd. meeeeeehh ehhe. Enough on that :)Let's move on.
I have only recently gotten the chance to watch the romantic drama Letters To Juliet. I must say, it isn't very emo as the rest of Amanda's Seyfried movies :) ehe. The mood is just right, I love it . Within this week, i have already watched the movie twice XD.
What i really wanted to blog about is the outfits from the movie. I love how they all look simple comfy laid-back and cute! XD. As of this moment, i am actually looking for ideas on what to wear(for my 4 days 3 night trip soon after my finals;) ), ideas for clothes that would be laid-back, simple, comfy AND cute XDXD =_=.
My shopping list right now consist of :
1. Shorts
2. Casual, comfy sun-dresses
3. Flip-flops/Sandals that won't give me blisters =_= AHHA
4. Skirts( OWH YES!! i am currently addicted to skirts ahha =_=.. i never liked wearing skirts BUT NOOOWW...i am hunting for them :D:D yay =_= XDXD)
ANYWAY! Here are the outfits from the movie :)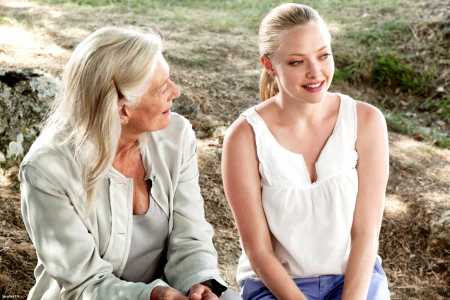 I love this white top! I can't seem to find tops like this here much :S MEEEEHHH. Maybe i am just not searching hard enough xd
I am in love with the bag. Gorgeous isn't it? ehhe
This ... truth is, i usually wear like this when i am out, the weather here is too hot that i get so lazy to dress up =_= HAHAHAHAAH. I AM LAME =_= XD
There is actually another outfit in the movie that i really love but i can't seem to find it anywhere :S so meeeh arh well :) XD.
Till next time xxx